A hooded youth prepares to throw a petrol bomb at riot police in the northern Greek city of Thessaloniki, on Thursday, Dec. 6, 2018 during a rally commemorating the killing of a 15-year old student back in 2008.
Police reportedly ran out of tear gas, with the riots the worst the country had experienced since the seventies.
The rally was being held on the 10th anniversary of a 15-year-old boy's death by police shooting. Some demonstrators set fires at a metro construction site.
Protesters fought riot police in Athens on Thursday as there were gatherings to remember the death of Alexis Grigoropoulos ten years ago.
Earlier, people laid flowers and lit candles during a memorial service on the spot where Grigoropoulos was killed.
Police deployed more than 2,000 officers in central Athens.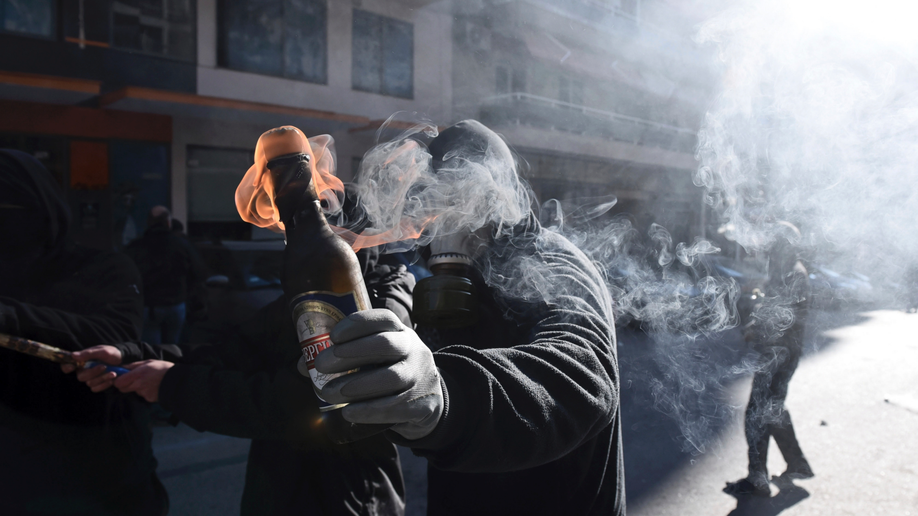 Some in full riot gear formed protective cordons outside parliament and hotels in the city, while a helicopter hovered over the central Syntagma Square and neighbouring districts through the day.
Today, protesters chanted "Hands off youth!" and "No fascists in schools!" as they marched to parliament in a tribute to the teenager.
In Athens, protesters had set up burning barricades and pelted police with firebombs, rocks and fireworks, with police responding with tear gas, stun grenades and a water cannon.
On the night of December 6, 2008, hours after Grigoropoulos was shot, thousands took to the streets of Athens, torching cars and smashing window shops and looting.
The riots were also reportedly fuelled by anger over unemployment and economic hardship in a prelude to Greece's financial meltdown and debt crisis.