Responding to the results, an FCA UK spokesperson told Car Throttle: "Safety is of the utmost importance at FCA, and as such, our latest Jeep Wrangler and Fiat Panda comply with all safety legislation in every market in which they are sold". Historically, the Wrangler has performed poorly in crash tests. "The vehicle offers more than 75 advanced safety and security features, including four standard-equipment airbags, and starting in early 2019, an advanced Automatic Emergency Braking (AEB) system that combines the benefits of camera and radar technologies".
While the rating applies to both three-door and five-door variants of the Wrangler JL, the test was conducted using a Wrangler Unlimited in Sahara trim with a 2.2-liter turbocharged diesel engine. It scored 45% in the adult occupant protection (AOP) category, 47% for pedestrian protection (VRU) but only 16% for child occupant protection (COP).
Euro NCAP secretary general Michiel van Ratingen commented: "It is truly disappointing to see a brand-new vehicle being put on sale in 2018 with no autonomous braking system and no lane assistance. It is high time we saw a product from the FIAT-Chrysler group offering safety to rival its competitors", says Michiel van Ratingen. A point on the report about the Wrangler talked about how the connection between the A-pillar and the trans-facia beam was damaged to a point where it indicated that the structure wouldn't be able to endure higher loads.
In its comments on the adult protection crash testing, Euro NCAP's engineers criticised the structural integrity of the Wrangler, describing the bodyshell as unstable. The test auto wasn't fitted with AEB.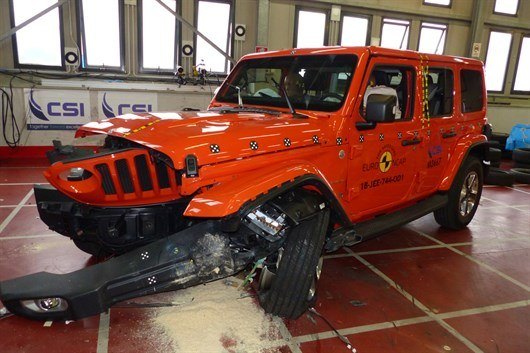 In child occupant crash tests, except for protection to the neck of the 10-year old dummy, which was rated weak, the protection offered was rated as good or adequate.
As for safety assist, it managed to only score one point, or 7% of the total, its only feature to score points being a seatbelt reminder.
The Panda was originally tested when the latest generation first went on sale in 2011, attaining a four star rating.
The BMW X5 also suffered from airbag problems, the driver knee airbag not deploying correctly in the frontal offset test and providing little additional protection to the driver's legs.