Allegedly, Microsoft chose to do this to ensure a successful launch for Andromeda. However, now according to the latest reports, recently, the tech giant Microsoft teased its another new dual-screen foldable device which will simply revolutionize the tablet and laptop market.
Specifically, Andromeda could still be envisioned as a "pocketable dual-screen phone", but if this new info is accurate, Centaurus will be given priority in development and production, aiming to pave the way for Microsoft's eventual mobile market re-entry.
Windows Central claims to have learned about the device from its inside sources, and apparently Microsoft has been working on it (along with Intel) for around a year now, and is hoping to officially reveal Centaurus towards the end of 2019.
Intel previously showcased a small dual-screen PC running full Windows 10 (Image from Mark Hachman/IDC).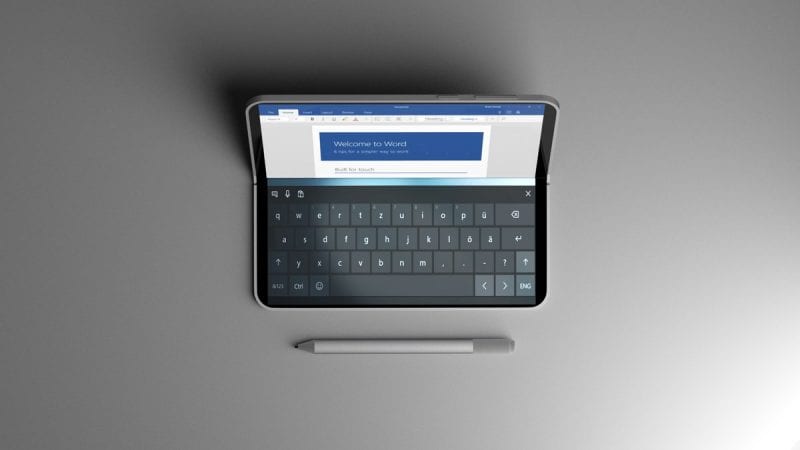 It's (from what I hear) powered by an Intel processor, and is very likely a larger take on the Andromeda form-factor. Following which, Zac Bowden, a senior reporter at Windows Central, tweeted that the "larger Andromeda" certainly is not Andromeda, but a different project altogether. Currently, Microsoft is working to bring more conventional Win32 apps to the Windows Store to support these future endeavours.
As we've seen with Windows Phone, an OS without a strong ecosystem of third-party apps is pretty much dead on arrival, and the same thing could well happen with the first wave of Windows Core OS devices.
So if Microsoft now appears to be focusing on this dual-screen tablet, what of Andromeda? But interestingly, Microsoft could fill the app gap on Andromeda by resurrecting Project Astoria, the emulation of Android apps on Windows 10 Mobile that Microsoft ultimately abandoned. The company is also reportedly toying with the idea of supporting Android apps.
Like the Surface Pro, Microsoft will use Centaurus to show manufacturers what they can do with the new form factor. That's a very hard question to answer, but a Windows device that can't run all existing Windows apps may never be able to replace the good ol' smarphone/laptop combo.