Turkey launched operation "Olive Branch" on January 20 against the Syrian Kurdish People's Protection Units (YPG) militia in Afrin, supporting Syrian opposition fighters with ground troops and air strikes. The Syrian Observatory for Human Rights says the offensive has killed at least 51 civilians, including five children from the same family.
Rami Abdel-Rahman, head of the Observatory, said Turkish troops briefly seized the hill at the start of the campaign but lost it to Kurdish fighters hours later.
The Ain Dara temple was the latest one destroyed by the Turkish shelling on Afrin, said SANA, adding that the temple was among the most important ancient monuments built by the Arameans in the first millennium BC.
Hundreds of people attended funerals Monday for casualties of a Turkish offensive against Kurdish forces in the Syrian border region of Afrin.
According to a statement issued by the Turkish General Staff, the army "neutralized" 37 PYD/PKK and Daesh terrorists so far on Sunday.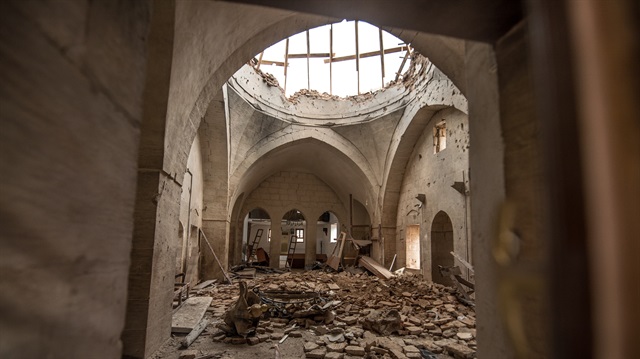 Calik Mosque 12
Mr Erdogan said that doctors from the medical association were "filth" and "terrorist lovers" after they had warned that Turkey's military operation could turn into a humanitarian tragedy.
Ankara has said that such claims are baseless propaganda.
Turkey's President Recep Tayyip Erdogan vowed Sunday that Turkey will clear its entire border with Syria of what he referred to as "terrorists".
The SNC accused Assad's regime and its Russian backers of continuing to rely on military might and showing no willingness to enter into honest negotiations to end the war, in which more than 340,000 people have died.