On the eve of the debate, the government made an apparent concession to rebels MPs by promising a separate piece of legislation that would allow parliament to have a binding vote on any Brexit agreement.
Nick then put the words of fellow Tory MP Bernard Jenkin, who said that anyone who votes against enshrining the date of Brexit in law must answer allegations that they want to stop Brexit.
Fabulous collection of some of the best MPs in the country.
She told MPs: "None of the people who have been named - I take it as a badge of honour - want to delay or thwart Brexit".
Another potential rebel, Jonathan Djanogly, tweeted "to me this is about upholding our constitution and negotiating position", and Bob Neill said "the bullies will not succeed", adding: "We will continue to work constructively for the best Brexit possible - that's our duty - and what parliamentary democracy is all about".
Brexit minister Steve Baker also responded to the Telegraph's front page on Twitter, saying he regretted "any media attempts to divide our party".
Media captionWhat's going on with the EU Withdrawal Bill?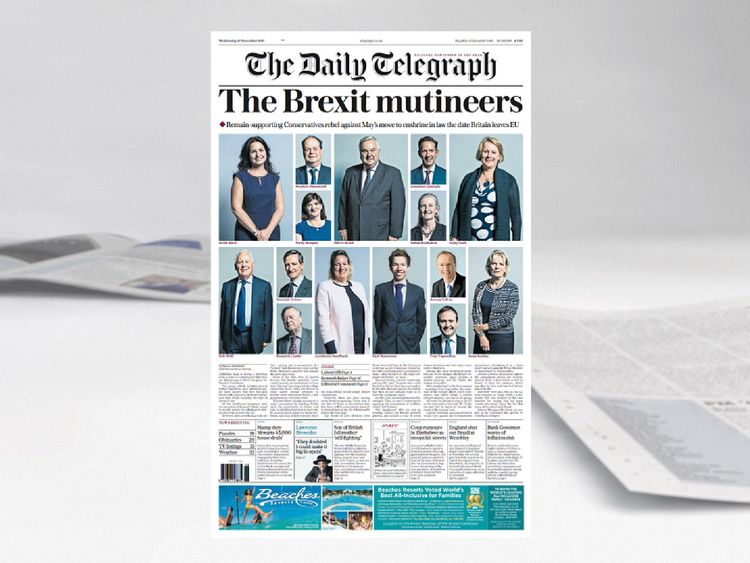 Image The controversial Daily Telegraph front page
They argue that the move will limit the Prime Minister's flexibility if negotiations with Brussels drag on until the last minute.
It aims to stop European Union law from applying in the United Kingdom and avoid confusion on Brexit day - 29 March 2019 - by putting all existing European Union law onto the United Kingdom statute book.
Clarke labelled the proposal to include an exit date in the European Union withdrawal bill of 11pm on 29 March 2019 as "ridiculous and unnecessary", adding: "It could be positively harmful to the national interest".
"My parliamentary colleagues have honest suggestions to improve the bill which we are working through and I respect them for that".
Grieve said that no amount of "arm twisting" would make him vote for the amendment, which will not be voted on until next month towards the end of the bill's committee stage.
They were joined by most Lib Dem and SNP MSPs - but were heavily outweighed by more than 300 Tory and DUP figures who voted in support.